Visitor Information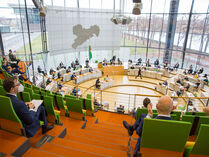 You can visit the Saxon State Parliament as an individual without prior invitation. However, please take note of our opening hours and the session schedule, if you would like to attend a plenary session.

We request that large groups of visitors in particular book in advance to ensure that you will have enough space on the visitors' gallery, and we can organise an attendant to look after your group. Please call and arrange a date for your visit, so that we can coordinate the visitor program with you.
The state parliament is also open to visitors on days when the parliament is not in session. The composition, duties and functions of the state parliament will be explained during a one-hour tour. If requested, delegates will be available to meet with the visitors on these days if their schedule permits it. We will be happy to organise a tour in German or in English.
Visitors to plenary sessions and the citizens' foyers should use the public entrance to the new building directly on the banks of the Elbe river. Visitors of the parliamentary parties and the administration of the state parliament should use the entrance to the old building on Bernhard-von-Lindenau-Platz.
Should you want to look around before your visit to the State Parliament, you can take our virtual tour (only available in German).
Visitor Services
To book guided tours and observe plenary sessions, please contact:
phone: +49 (0)351 493-5132
mail: besucherdienst@slt.sachsen.de